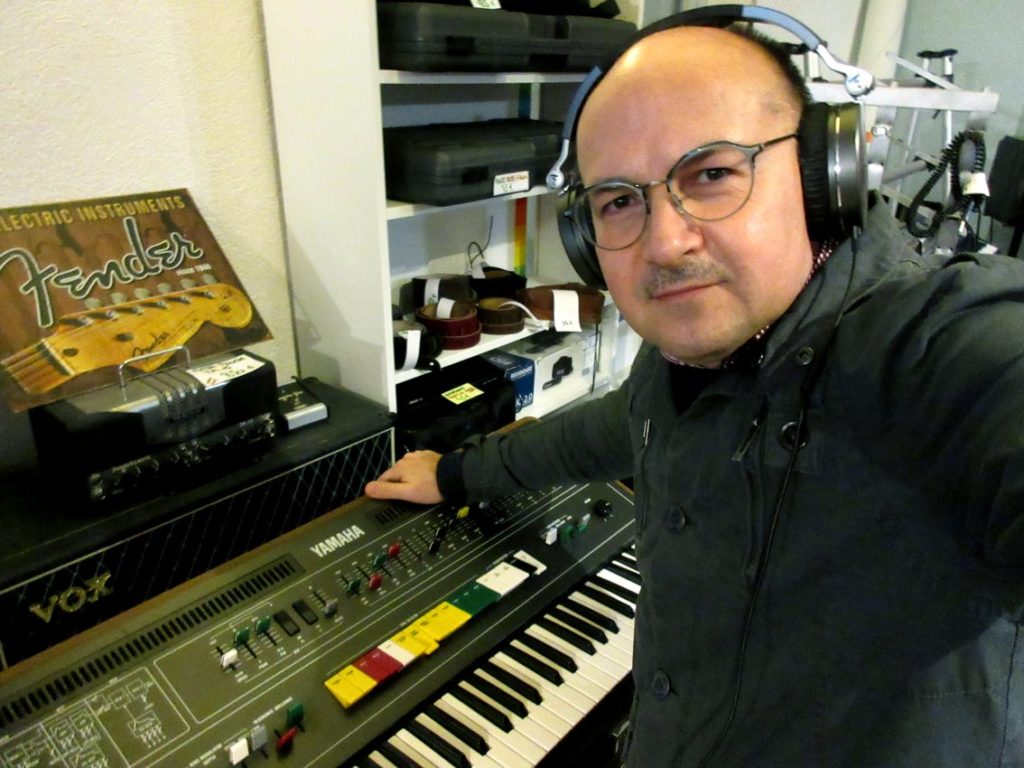 [February 01.2021] Started the 25 december 2020 i will add more official datas as soon as possible to finish this new website [reviews and promotional informations] //////// [December 30.20] Feel free to listen here all my full discography CDR recorded at home (without mastering), official remixes and compilations where i appear with indie labels (mastered physical CD's, digital) //////// hope you will really enjoy, feel free to write me here for any questions.
It's a long time i play music with full of tracks or a time with less activities, it's always magnicient to work with indie labels but i always practiced keyboards and music waiting nothing behind too, so i decided early 2009 to do a break researching labels to work my music. Curiously, remixes come to me after ten years programming albums in CDR done at home. Since 2012 i feel very lucky and determinated behind my own shop of instruments of music "At Green Sound "(secundary hands only), 8 years that helped me positively, learning a lot of instruments, studying them, touching them, helping honestly people to sell with professional and respectuous interactions, i am feeling growing by all theses experiences. In the past, music piracy and the mass of musicians on the world wide web were not a so good era. Today i feel a nice and positive energy to follow music, build new projects my foot on the ground and the real life. Thank to follow my projects here.
|01 février 2021] lancé le 25 décembre 2020, je dois finir ce nouveau site en ajoutant dès que possible des articles de presses et divers informations provenant de mon Pressbook utilisé dans le passé pour rechercher des labels. Mes albums CDR non mastérisés sont pour l'heure en libre écoute, vous trouverez aussi mes remixes officiels et des apparitions sur deux compilations internationales (format CD physique et sur des plateformes Digitales gérées par les labels directement). Je reste à votre écoute si vous avez des questions.
Cela fait de nombreuses années que je compose de la musique avec des périodes très actives ou beaucoup plus calmes, même si c'est toujours plaisant et gratifiant de travailler avec des labels indépendants, j'ai toujours pris du plaisir à composer de la musique sans rien attendre d'elle, j'avais décidé après 2009 de cesser de rechercher et travailler ma musique pour progresser, curieusement se sont les remixes qui sont venus à moi après une grosse dizaine d'années à composer des albums en cdr. Depuis 2012, mes expériences liées de 8 années de gérance de mon propre magasin d'instruments de musique d'occasion AU SON VERT (Bordeaux Bastide) m'ont permis de gagner en maturité et confiance en moi, aider les particuliers à vendre des instruments de manière professionnelle et respectueuse (étudier, toucher et tester une quantité d'instruments divers m'ont ouvert l'esprit après une période où le piratage de la musique et le sentiment d'être noyé dans la masse internet avait tendance à le refermer sur lui-même), j'ai pu aussi acquérir un certain nombre d'instruments d'occasion que j'avais revendu dans le passé et des nouveaux produits intéressants. Au Son Vert est toujours une source d'énergie et de motivation qui me pousse à reprogrammer et continuer l'aventure de la composition, les pieds sur terre dans la vraie vie. Merci de suivre l'actualité sur mon site.
[Arthur PLATA]